Almora is a cantonment town in Uttarakhand, located at a height of about 1650 meters at the southern end of the Kumaon Hills in the Himalayan region. The picture postcard hill station is ringed by mountains, forests of fir and pines and the Rivers Suyal and Koshi.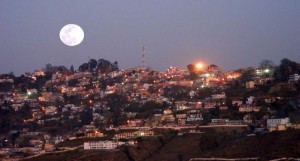 Garhwal lies to the West, Nainital to the South, Pithorgarh to the East and Bageshwar to the East. The Chand Rajas established Almora and the British developed it into a fine hill resort.
Getting There
Kathgodam is the nearest railway station, about 90 kilometers away, from where you can take taxis or buses to Almora, about 2 hours by road. You can travel direct from Delhi, a journey of 380 kilometers, as also take buses from Nainital, Lucknow and Dehradun. Pantnagar, the nearest airport is about 127 kilometers away, again well connected by taxis and buses.
Things to do and see
Almora is a well developed tourist town and the resort itself is a place where you may want to linger for days, watching the scenic splendor of the Himalayas as the Sun's rays turn the peaks into shades of gold and crimson.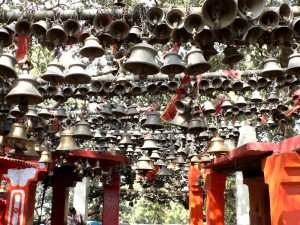 Tourists usually flock to the Bright End Corner to have a wonderful view of the Sun as it sets.
Another place you must visit is the Chitai temple with its collection of brass bells. The tradition is for devotees to make an offering of brass bells in fulfillment of vows or as token of thanks.
Nanda Devi Temple is undoubtedly the heart of Almora and is several centuries old, the seat of cultural and religious activities.
Go shopping along the Lala Bazar where you can pick up local handicrafts, woolens and local concoctions. You can pick up exquisite Pashmina and Angorra shawls. Copperware, decorative candles, driftwood articles and kumaoni folk art articles are available in specialist stores lined along the 200 year old bazaar.
In and around Almora you will come upon many temples including Katarmal temple, one of the few Sun temples in the country. The Rudreshwar Mahadeva temple, dedicated to Lord Shiva is located near Sanara Ganiya, along the banks of the Ganges.
The Panchachuli Weavers Factory, off Bageshwar Road, turns out woolen products employing about 700 women and it is a place you would find interesting.
Round off your trip with a visit to the Pandit GB Pant Museum, a repository of local folk art and historic sculptures.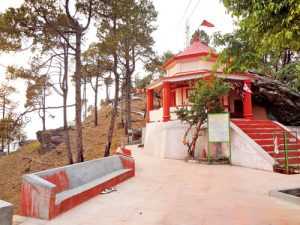 Almora could be your starting point to treks in the Himalayas, go explore perilous mountain paths, explore forests or even go on to Pindari glacier. Paragliding is another popular activity in this region.
Accommodation and cuisine
Almora, a well developed town, offers a number of hotels and guest houses ranging from budget to luxury. As for meals, there are plenty of restaurants and roadside dhabas to let you have your fill of traditional Punjabi foods and local cuisine. Try Mandua ki roti, Lesu and bhang ki khatti followed by sweet dishes Singori, Bal Mithai and Jhangori ki kheer.
A mid sized town, Almora is quiet but has well developed infrastructure and facilities to make your trip enjoyable.